Way back when video slots first started, the games featured some great themes. These themes were based on where the games were available as this changed the winning that could be activated. For example, slots offered in pubs, featured themes with beers and food on their menu as players could win items by lining up 3 of the same items.
Fruit slots were the first to provide real cash winnings, once again requiring players to line up at least 3 of the same symbols to obtain a cash winning. Over the years, slot game developers managed to change the themes and features offered in these games, making them more exciting and attractive. As many of you would already know, these games are still available to this day and provide users with a range of impressive bonuses and huge winnings.
While classic slots offered an impressive range of themes, they were still limited as to just what's available in these games. When 5-reel slots became available, the market saw a whole new opportunity to feature themes of all sorts, but it wasn't until video slots that the real value in slot themes started to shine through. Video slots are what we all know as slots and online slots today as they use video graphics to present the game. These games also have the ability to provide more bonus features that include second screen interactive bonuses.
Not long after creating expected themes such as storybooks and popular categories like animals, video slot developers saw the benefit of attracting players with themes from movies and well-known TV shows, which once again raised the bar as to what players have access to when playing at online casinos. The developers offering these themes also instantly claimed a bigger portion of the market as more and more casinos desired their software to attract more members.
Today, TV-themed slots are very popular, and with each and every new release on major networks such as HBO, even more slots are being created by the best developers in the industry. These games have been known to feature among the most popular, especially when players are able to see their favorite characters on the reels and during the impressive bonus features.
Most Popular TV-Themed Slots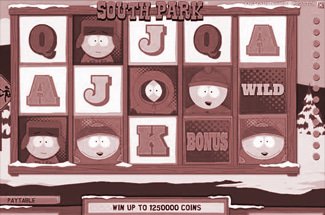 While a massive range of slots is available with these themes, there are a few that stand out and provide a highly impressive gaming opportunity to enjoy. Some developers have also attempted to remake these games without obtaining the proper licenses, which is easily seen as they do not offer the same quality game or the actual characters from the series. Below, we look at some of the most popular gaming opportunities available with a TV theme. Pawn Stars - Pawn Stars has become amazingly popular worldwide as a hit non-fiction TV series about a well-known pawn shop in Las Vegas, Nevada. The show features the family who runs the shop and viewers from around the world could see the amazing everyday deals created.
Bally Technologies saw the opportunity to turn this into a great video slot first and grab the chance to create it for their land-based gaming platform, which is most famous in none other than Las Vegas itself. After seeing how popular the game is for the land-based market, the developer also enabled it for online gaming, meaning members from around the world could now enjoy these benefits all the time and also gain a few huge wins.
All the characters from the series appear on the reels, including Rick, the old man, Corey, and who could forget Chumlee. The game features five reels and completes combinations with twenty-five pay-lines. While the slot provides a range of great offers such as free spins, wild symbols, special pick'em bonuses, and winning up to 18,400 coins, the most impressive feature is that items can be collected during the regular game, which can be sold to the team later on for some additional bonus cash.
Family Guy - Family Guy is the latest grown up animation TV program to hit screen all over America and many other parts of the word. The show might have had a slot start, but has picked up drastically over the years. IGT was the first to spot the opportunity to bring the theme to life in a video slot and has managed to impress with the amazing cartoon style features, theme, and animations offered. The Family Guy video slot comes with five reels and 30 pay-lines to capture all the winnings. Bonuses included are activated by six different members from the series, meaning six bonus features can be triggered, which are all specific to each character. Players are also offered wild symbols for bigger combinations and a 6-tier progressive jackpot opportunities, making the game so much more attractive. IGT has included all the characters from the original series along with popular items seem in the slow.
Game of Thrones
Game of Thrones has become one of the most successful TV series in the world due to its incredible storyline that can change in a matter of seconds. George RR Martin has managed to wow his audience while also keeping one of the most desired worldwide secrets, which is of course what happens next.
Microgaming was the first to sign a deal with HBO to turn this thrilling theme into a video slot. The developer has managed to carry over the same feel as the series while also impressing with special sound effects and features. Played on five reels and 15 paylines, the slot jumps to live with each spin as all the houses appear on the reels. When it comes to bonuses, the slot impresses even more with the free spin bonuses as members can choose from a 5x multiplier with eight free games through to 18 free spins that include a 2x multiplier on all winnings.
Beverly Hills 90210
Beverly Hills 90210 was one of the most popular TV shows back in the 90's. The ran for ten years, featuring a group of friends attending West Beverly Hills High School as they go through the major transformation to being adults. The series has been turned into an amazing video slot that's available at all the most popular online casinos. Developer iSoftBet has obtained the rights to feature the actual characters from the series. The game features 243 ways to win, meaning 3 or more symbols from left to right provides a win, irrespective of how they appear. Players also have additional winnings coming their way with free spin bonuses, multipliers, random winnings, and much more.
CSI
CSI is one of the most popular forensics TV series that's still running to this day on the well-known CBS network. However, as many fans already know, many additional CSI programs have been released, offering the same exciting series. IGT has taken advantage of the themes and features available by offering both CSI: Miami and CSI New York to their featured casinos. The video slots provide all the regular bonuses and features while impressing players with a range of added benefits that brings the true crime investigation aspect to life in these games.
Judge Judy
Judge Judy changed reality TV by giving viewers the opportunity to see what happens in the day to day cases of a small claims courtroom. Millions from around the world enjoy the amazing cases that appear and some of the silly things people seem to think they can sue each other for. However, IGT has still managed to create a video slot from this theme, which offers 720 ways to win over five reels. The developer has created a range of interesting features that makes you feel part of the courtroom. Players can enjoy bonuses ranging from You Make the Call that gives you the opportunity to see real clips from the courtroom and choose what you think happens, through to finding credits and having them multiplied for a massive win.
Why Play TV-Themed Slots?
These games tend to bring out the very best in all developers as they have a lot riding on the success of these games, meaning they are known to include the latest bonus features, present their best ideas, and truly bring the level of their games to a new high. Branded slots, such as those found at leo Vegas Casino have always been a favorite as fans get to grab onto a part of the series they enjoyed while also activating some great winnings and triggering exciting features along the way.